There are many ways to contribute to Friends of Jones. Friends of Jones coordinates a variety of fundraisers throughout the year to help support Jones in areas that CPS funding does not cover. The funds raised have been used to purchase computers, software, laptops, athletic uniforms and travel, classroom technology and supplies, as well as underwrite professional development, field trips and countless other rewarding projects that benefit our entire student body and keep JCP among the most successful high schools in the state and the nation.
GIVE WHEN YOU SHOP!
Amazon Smile – It's exactly the same as shopping at amazon.com, but Jones gets a portion of your purchase price when you go through smile.amazon.com. Be sure to add the link in your bookmark bar as a reminder to use Amazon Smile.
iGive – Merchants contribute to our school when you buy from them online.
SUPPORT THE 2021-2022 ANNUAL FUND!!
Our 2021-22 annual fund campaign is officially underway. A meaningful gift from you, in any amount, is a meaningful gift to the FOJ campaign. 100% participation by the JCP family demonstrates that our community is deeply committed to supporting its mission and the Grad at Grad values of Jones College Prep.
You can contribute in any of the following ways:
Appreciated stock purchased over a year ago may be donated and a tax deduction is taken for the full market value of the gifted stock as of the date of the gift (up to 30% of adjusted gross income) and because the stock is donated rather than sold, there is no capital gains tax. (Please consult your tax advisor). If you would like to donate stocks/securities from a brokerage account, please initiate a direct wire transfer with your broker to Friends of Jones. Our account info is Ameritrade DTC: 0188, Account Name: Friends of Jones (account number available upon request). Please have your broker indicate your name and acknowledgment information. Please notify FOJ at treasurer@friendsofjones.org immediately after the transfer by emailing your name, address, telephone number, stock name with the CUSIP code and number of shares transferred so we know who to thank for the donation.
You may donate to Friends of Jones from your Charitable Gift Fund by contacting the fund and asking to designate FOJ as a donation recipient or log in to your Giving Account and enter FOJ (Tax ID #36-4417670).
Jonathan Adams
Abena Agyeman-Bugyei
Steven Aks
Carlos Alfaro
Maria Amoruso
Alex Andrade
Grace Armstrong
Armstrong Family Foundation
Jill Attkisson
Kimberly Bahna
John Balaguras
Raychel Barfield
Paul Bartolai
Nancy Bason
Brian Basler
Joseph Behen
Shalimar Beekman
Richard Benjamin
Joseph Berhalter
Vanda Berman
Jennifer Biggs
Blackbaud Giving Fund
Patricia Blagojevich
Sarah Block
J L Matelski Boulware
Gregory Boyle
Laura Brauer
Julie Borst Brazas
Patricia Hanlon Burke
Janice Cabaltica
Deana Caccavale
Gabriela Cambiasso
Erica Carli
Martha Castillo
Darlene Chappell
Charities Aid Foundation
Michelle Charles
Julie Chesne
Bo Ping Chow
Troy Close
Deborah Cohen
Randall Cone
Bridget Cowlin
Cowlin Foundation
Vicki Crockett
Kenton Cuddy
Donna Czech
Barbara Danis
Stacie Daley
Jitendra Dassani
Samantha Dekoven
Daisy Delogu
John DeSantis
Stacey Dombar
Rebekah Dousias
Michelle Drake
Diane Dugard
Jeffrey Dunning
Julie Edwards
Suzanne Falck
Jen Faust
David Fisher
Evelyn Fitzgerald
Tabatha Fleming
Michael Flynn
Lawrence Friedman
Ruslana Friedman
Julie Ganey
Scott Gelling
Dawn Gershman
Kara Gibney
Jacqueline Gilson
glaxosmith
Veronica Gomez
Jessica Goodman
Justice Goodman
Peter & Jana Gotsch
David Gottschall
Jared Green
Deborah Guenthner
Magdalena Gutierrez
Robert Half
Brian Hand
Theodor Hangesbach
Corey Harrison
Jacqueline Hatch
Brett Hattel
Cassandra Hatto
Jonathan Healy
Rebecca Healy
Peter Hirsch
Wendy Hiza
Eunhee Hong
Pamela Horan-Bussey
Stefanie Hrejsa
Jen Huberman-Shlaes
Catherine Hug
Kathy Im
Dwight Irwin
Jennifer James
Kelly Jiang
Jami Josefson
Diana Kantner
Simona Katona
Christopher Keller
Michelle Kerr
Tina Khaunte
Jacqueline King-Papadopoulos
Tricia Koning-Llewellyn
Andrea Korte
Daniel Kovacs
William Kovacs
Shelly Kulwin
Hilary Kurinsky
Monica Kuzma
Michael Lamantia
George Langford
Pamela Lannert
Gloria Lasley
Ainhi Le
Jenny Lee
Linda Ling
Suzanne Loose
Sheila Lothian
Doreen Lubeck
Eve Ludwig
Moray MacLennan
Latrice McArthur
Katherine McConnell
Michael McGovern
Linda McJessy
Colleen McNulty
Daniel Mahoney
John Marchese
Mary Catherine Marco
Caryn Marcus
Diann Marquis
Claudia Martin
John Martin-Eatinger
Michael Maxwell
Yong Mei
Jennifer Meints
Jeanne Mellett
Claudia Mendelson
Shannon Mettelman
Jannifer & Steve Miller
Dimi Minkov
Michelle Mitchell
Megan Mortensen
MUFG
Hans Nelson
Laura Nelson-Garlati
Charmaine Nichols
Annie Line Nono
Jenny Novakovic
Rick Nunziati
Norah Obrien
Tija O'Brien
Rachel O'Mara
Rita Parida
Dimple Patel
Laura Patrick
Maryrose Pavkovic
Jenni Pencyla
Anne Penniston
Christina Perez
Thomas & Sharon Perrine
Timothy Peterson
Lindsay Philbin
Jennifer Pope
Clayton Press
Ronald Pullie
Sheila Quinn
Lisa Rakic
Marina Raykin
Noelle Repetto
Jimmy Reyes
Malinda Riley
Veronica Rivera
Nick Roder
Donald & Debbie Roseen
Barry Rosenberg
Ivana Rosich
Theresa Ross
Therese Rowley
Clare Salcedo-Obert
Samuel Krom Foundation
Mario Santos
Jason Schettler
Peter Shearn
Joseph Shacter
Sandra Sheinin
Trina Sheridan
Amanda Shiu
Michael Shiu
Samantha Shiu
Naved Siddique
Elizabeth Siegel
Robin Simkins
Charla Simon
Michael Siska
Radiah Smith-Donald
Keith Solomon
Latha Soorya
Brittany Southworth
Jerry Sriver
Tina Stamatis
Kim & Matthew Stauber
Kevin Sterling
Mikala Stewart
Cheryl Strzechowski
Julie Tallarida
Sara Talsma
Judy Sutton Taylor
Paula Teichner
Laura Tharsen
Dana Thomas
Lisa Toerne
Kimberly Trueblood
Union Bank
Gred Video
Susan Viti
Carl Vogel
Nancy Ward
Stephanie Ward
Robert Warren
Eryn Weber-Shifrin
Ross, Julie, Sydney & Michael Weisman
Bart Weldon
Audrey Wennink
Brian West
Jannie White
Sarah White
Gwenan Wilbur
Jared Wunsch
Lisa Yaghmour
Megumi Yamakoshi
Chifeng Yang
Jianhua Hua Zhao
Roman Zinov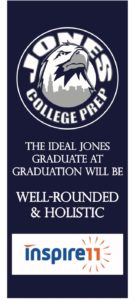 CORPORATE SPONSORSHIP SOUGHT FOR STREET BANNERS
Is your company or business interested in supporting one of the best schools in the state? Friends of Jones has secured clearance to sell 31 light post banners around our school on State, Harrison, Dearborn, and Polk Streets.
The banners are available to businesses for $2,000, $3,000 and $5,000 sponsorships, depending on location and other benefits provided, and each will include the sponsor's name/logo along with a Jones College Prep mission message.
Money raised will be used to support Jones College Prep, funding items the school needs that are not covered by the CPS budget.

Learn more about the various Sponsorship Levels. View the map of banner locations. Ready to commit?

WE NEED YOU
TO MAKE OUR ONLINE AUCTION A SUCCESS!
Every Spring, Friends of Jones runs an online auction as another way to raise funds for our school. Our success each year depends largely on donations from families and the people they know. We want this auction to be our best yet! Please consider securing/donating: gift cards in any demonination; sports tickets; Lollapalooza or concert tickets; stays at vacation homes; special event opportunities; unique experiences not available to the public, etc.
Items and forms can be dropped off in the Jones main office, Attn: Friends of Jones Online Auction.
Contact onlineauction@friendsofjones.org with questions or forms.
SPRING BENEFIT SPONSORSHIP
HELP US CELEBRATE EXCELLENCE AT JCP
BY BECOMING A SPRING BENEFIT SPONSOR
Becoming a Spring Benefit sponsor is a great way to make a significant impact. We are seeking sponsorships that range from $250 – $1,000. Sponsors help us underwrite the event so that the funds we raise that evening will go toward benefiting the students and programs at our school.
3 LEVELS OF SPONSORSHIP AVAILABLE!
  GOLD:   $1,000  
Includes 6 gourmet meals plus dessert and two   bottles of Champagne delivered to your home!
  SILVER:  $500  
Includes 4 gourmet meals plus dessert and a bottle of   Champagne to be delivered to your home!
  EAGLE:   $250  
Includes 2 gourmet meals plus dessert to be picked up   at Jones College Prep on March 19th!
Please contact benefit@friendsofjones.org for questions or more information on becoming a Benefit sponsor.
FOJ is a 501(c)(3) organization. Your contribution to Friends of Jones is tax-deductible to the fullest extent of the law. The Friends of Jones tax ID is 36-441-7670. Your tax-deductible acknowledgment will be sent via email or USPS. Please retain for your records.